Maternity services at Newham Hospital are getting better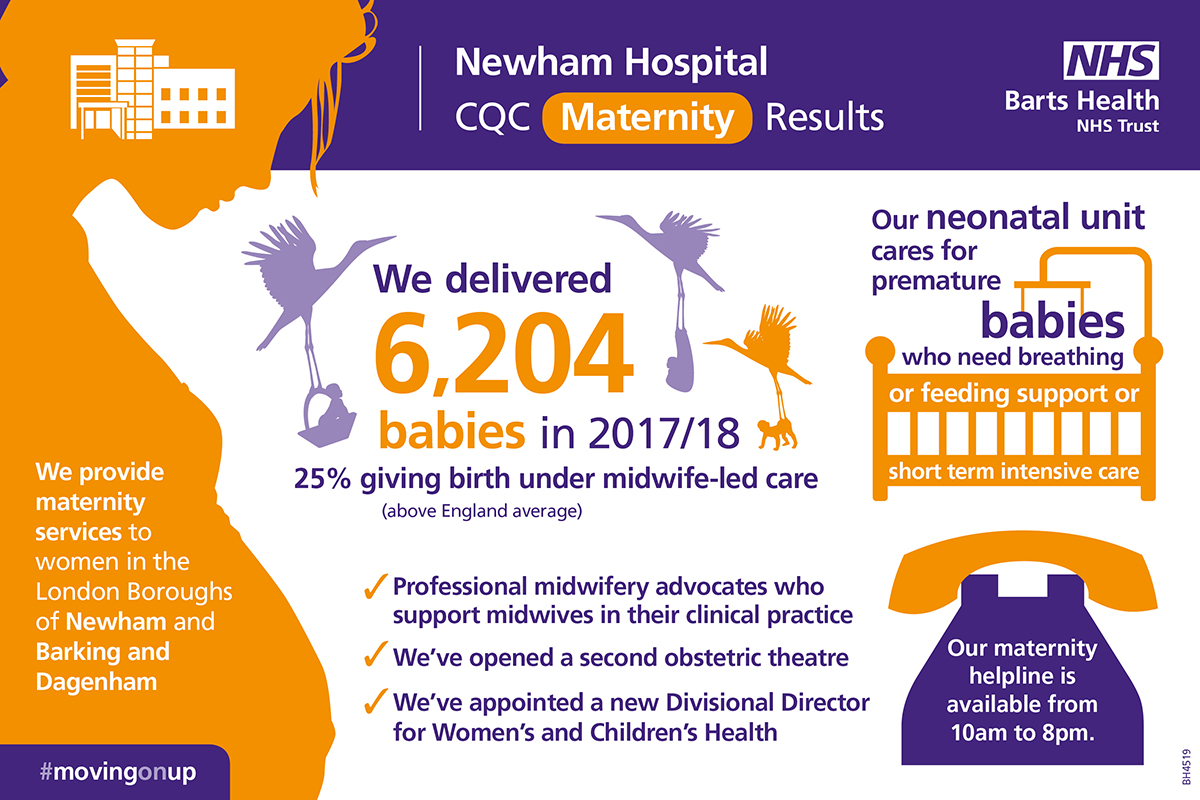 Maternity services at Newham University Hospital are today upgraded by the official care regulator after a turnaround by staff.
Following a recent inspection, the Care Quality Commission has revised its view last year that maternity services were inadequate, although it says they still require some improvement.
The good news for mothers and babies means a third of all services at Newham University Hospital are now rated as good.
In particular the CQC heaped praise on Gloria Rowland, Director of Midwifery for the parent Barts Health NHS Trust, who personally spearheaded an improvement plan after the hospital was issued with warning notices about safety in the department.
It is unusual for the CQC to single out individuals in a report, but the Chief Inspector of Hospitals, Ted Baker, said: "We saw outstanding practice in the leadership and drive shown by the acting head of midwifery."
More than 6,000 babies are born in Newham each year. Midwives oversee a quarter of these cases, which is higher than the England average and recognised as best for mum and baby alike.
Tony Halton, managing director of Newham, said: "The maternity team responded magnificently to the challenge of receiving a warning notice and have turned things round in a very short time. We are now looking to build on this and make further progress for our patients."
Barts Health NHS Trust was taken out of special measures in February after two-thirds of all inspected areas at its four major hospitals were rated "good". A separate report also published today upgraded care at The Royal London Hospital in Whitechapel, which joins St Bartholomew's in the City as being rated "good" overall.
Alwen Williams, group chief executive of Barts Health, said: "I am delighted that the regulator has recognised these marked improvements in services and highlighted examples of outstanding practice amongst staff. This is further evidence that the Trust is moving in the right direction towards our goal of becoming an outstanding healthcare organisation."
Chetan Vyas, Director of Quality and Development and NHS Newham CCG said, "It is pleasing to see that the hard work from the Newham Maternity Team in making the required improvements since the last CQC inspection, has been recognised by the regulator. We are pleased that the staff at Newham Hospital are continuing to make improvements in the services they provide to the residents of Newham and we will continue to work with the hospital teams to build on these improvements."