Bedside cafés and gardens encourage recovery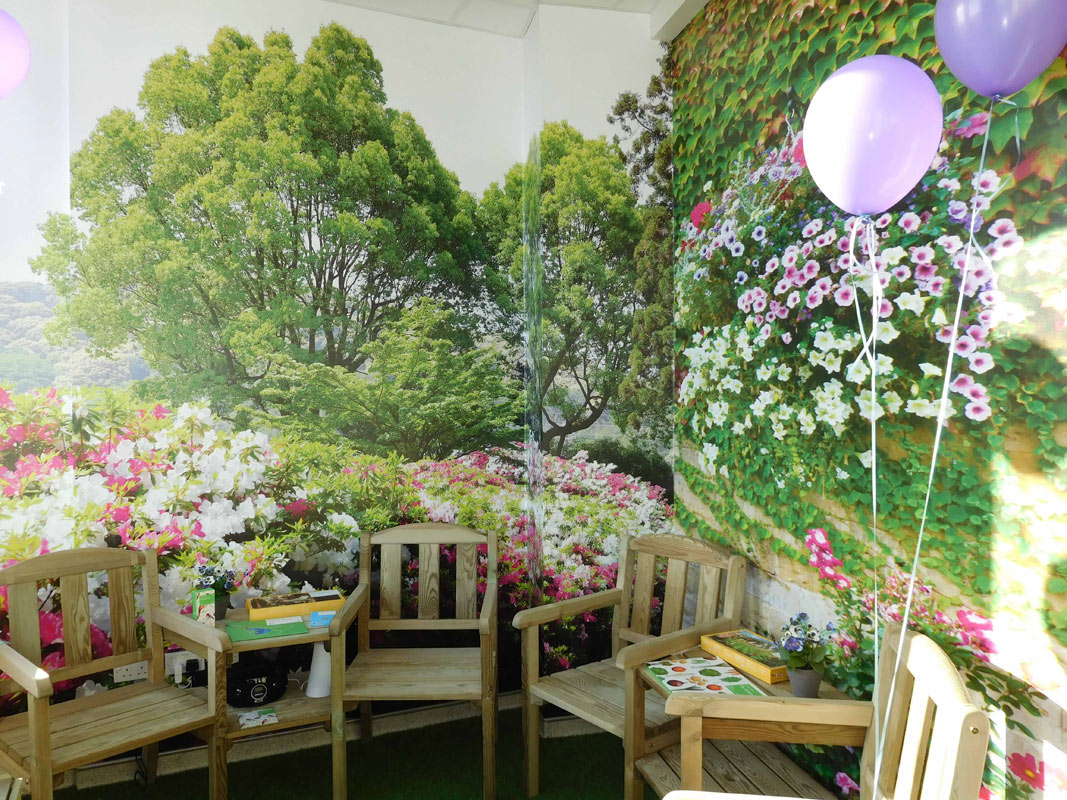 Older patients can now enjoy a bedside 'café' and garden, with the opening of two sensory spaces at The Royal London Hospital.
The new social and reminiscence spaces have been designed as dementia friendly and therapeutic, where patients, carers and staff can interact.
With the help of a project grant from Barts Charity, previously underused spaces have been transformed into two distinct themes; tea rooms and gardens.
Two tea rooms offer a relaxing space centrally on each ward for patients and guests to enjoy. With each named after the ward managers, Susan and Diane, they add a sentimental touch for the team which has supported the project through to completion.
The two garden rooms are an oasis of calm on the wards, combining wall murals, artificial grass, scent diffusers and garden furniture to create relaxing sensory environments for patients.
Day rooms form an important part of patients' recovery as they are encouraged to grow in confidence to leave their beds, move around and socialise.
Michael Harper, General Manager in Acute Medicine and Older People's Services at The Royal London Hospital, said: "I am really pleased to see the previously dull, uninspiring spaces transformed into somewhere that welcomes patients and relatives to relax and spend time together. It would not have been possible without the support of Barts Charity and our Dementia and Delirium team."
The sensory spaces are part of a wider hospital project to enhance patient experience and introduce patient friendly environments. The Dementia and Delirum team is also working on a group activity timetable to encourage socialising across the wards.
Kate Young, Dementia Specialist Occupational Therapist at The Royal London Hospital, added: "Being in hospital can be a daunting experience for anyone; but for those living with dementia it can be a particularly disorientating and unsettling experience. With this in mind we want to offer all of our patients a relaxing space to retreat to, supporting their wellbeing and recovery, as well as providing a social space to catch up with family and friends away from their hospital bed."
Fiona Miller Smith, Chief Executive of Barts Charity said: "The transformation is extraordinary. We are delighted to support the team's rejuvenation of the day rooms that will no doubt help patients recover by giving them a space for relaxation and interaction."