Giving employment hope to young people with disabilities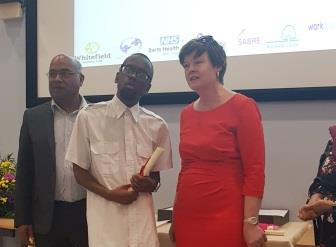 Young people with special educational needs in east London are being helped to secure employment through an innovative internship involving the NHS, councils, schools and colleges.
To celebrate their achievements, all partners held a graduation event on Thursday 12th July to provide a spotlight on how far the interns have come.
Project SEARCH gives young people aged 16 to 24 with a learning disability the opportunity to learn work skills with a clear goal of gaining paid employment.
Students complete three 10-week placements in a variety of departments at either Newham, The Royal London or Whipps Cross hospitals across the academic year.
Project Search at Newham Hospital is run by Newham Council, Newham College and Barts Health NHS Trust. A tutor is provided by Newham College to teach the interns functional skills such as English and maths along with employability skills each day.

Twelve students enrolled at Newham Hospital this year (2017-18) completed their course on 6th July. Two are already in full time employment, with two others undergoing work trials in hospital catering, and all others actively looking for work. Last year twelve students graduated, with eleven others in the project's inaugural year at the hospital in 2015-16.
Mohamed Abdi, 20, from Newham said: "I feel like I've learnt a lot like how to be part of a team. In my placement at the pharmacy department I enjoyed scanning documents and helping colleagues organise paperwork. I'm really excited and looking forward to graduating. Newham Hospital is a great place to work."
Whitefield Academy Trust co-ordinates two programmes across Whipps Cross and The Royal London hospitals in partnership with Barts Health NHS Trust, Kaleidoscope Sabre supported employment services and Waltham Forest Council.
Of the graduating interns in the last four years, approximately 75 per cent are now in full time paid employment working for Barts Health NHS Trust and in community work settings.
Placements include ward roles, medical engineering, pathology, portering, catering and administration, among others. Supported by department mentors and job coaches, interns benefit from hands-on job training, career exploration and employability skills instruction.
This gives interns an opportunity to be fully immersed in a working hospital environment to understand how a modern hospital works, as well as gain transferable skills that will also be useful in alternative industries.
Andrew Attfield, Associate Director of Public Health at Barts Health NHS Trust said: "We believe that everyone deserves the opportunity to develop to their full potential, and it has been a delight to support our hard-working and capable graduates to flourish during the time they've spent with us.
"Secure employment is one of the key foundations for a long-term healthy lifestyle. With many students having come to our hospitals from a young age, it made sense for them to gain skills in a familiar environment. I'm delighted that so many have benefited from the experience. My congratulations to everyone graduating."